capital (kap et l) adj. 1. involving or punishable by death, originally by decapitation [a capital offense] 2. excellent, first-rate [a capital idea]
WINNER OF 16 AWARDS AND NOMINATIONS IN OUR FIRST YEAR OF PUBLISHING,
including the ANTHONY, BOOK OF THE YEAR, the MACAVITY, and the LEFTY AWARD

At Capital Crime Press we understand that you want more from your books. You want excellence and originality. Suspense and laughter. Thrills and chills.
Maybe that's why critics are raving about our award-winning mystery/crime fiction. Try one, and see why people can't stop talking about Capital Crime Press!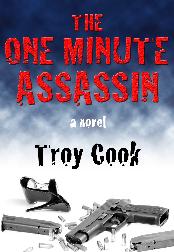 -- Troy Cook

During the strangest and wildest election in California history, one candidate for governor tries to kill his way to the top, figuring if money, power, and snake-oil charm won't get him elected, why not try murder?

"Stunning. The best thing I've read all year. Mix Elmore Leonard and Carl Hiaasen, add total 'in your face' edge, and you have Troy Cook's 2nd wondrous novel."
-- Ken Bruen, The Guards

"A gem. A 'Killer Book.'"
-- Independent Mystery Booksellers Assn.

"An Indie Surprise."
-- Publishers Weekly

Jeffrey Leever --
Welcome to Jasonville, Indiana-a town of one zip code, one high school, one cop car.and one terrifying autumn night. When a well-known journalist travels to a small Indiana town to investigate a series of
horror-movie-style murders, he discovers a disturbing mystery involving
local teens.

"Pick up a hammer. Hit yourself in the face. That's what Dark Friday will feel like as the action overwhelms and the words delight. Jeffrey Leever's got himself a big, bold winner."
- Shane Gericke, author of the bestseller Cut to the Bone

"Anyone who loves to be kept on their toes will be enthralled by Jeffrey Leever's novel."
- Maggie Grinnell, Roses and Thorns

"Leever can clearly write and he knows how to put together a gripping
nail-biter of a thriller."
- Norm Goldman, Bookpleasures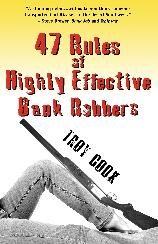 -- Troy Cook
What if your father raised you to be a bank robber? Instead of Barbie & Ken, you played with Smith & Wesson? Now you're twenty-two and ready to flee the nest, but your homicidal pop won't let you go.
That's the simple part of Tara's life.

ANTHONY AWARD Finalist
MACAVITY Finalist
LEFTY AWARD Finalist
BOOK OF THE YEAR Finalist

A "KILLER PICK" by Ind. Mystery Booksellers Assn.

WINNER, SILVER EVVY AWARD for BEST NOVEL
WINNER, ALLBOOKS REVIEWER'S CHOICE AWARD for BEST MYSTERY
"A literary jewel. Don't miss it."
— Library Journal
"Loved it. A hell of a book!"
— Ken Bruen, American Skin
"Fast-paced, sly, and entirely original. 47 Rules is a book that will be talked about for years."
— JA Konrath, Whiskey Sour and
Rusty Nail

"Ground breaking. This first novel should be on all crime, mystery, or humor lover's list of summer reads. It is a creative debut from a talented new fiction writer."
— Front Street Review

Robert Fate --
A father murdered. A daughter assaulted and left for dead. As a rule, in the 1950s a good girl didn't seek revenge for her father's murder.
But Kristin didn't play by the rules.
ANTHONY AWARD Finalist
BOOK OF THE YEAR Finalist, Foreword Magazine
EDITOR'S CHOICE AWARD Finalist, Allbooks Review
"There are very few books these days that take my breath away. But Baby Shark is one of them. It's certainly the best book this year, and possibly one of the best I've ever read."
—Reviewing the Evidence
"Wonderfully drawn characters… as stark and beautiful as the Texas landscape from which they sprang." —Billy Hayes, Midnight Express
"The writing is top notch, the story won't let you stop reading, but who cares? Baby Shark is such a sexy cool character, I'm in love."
—Penn Jillette of Penn & Teller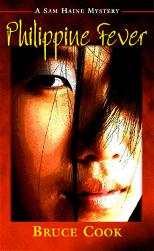 -- Bruce Cook
After your main suspect is murdered, how do you find a cargo container full of terrorist's weapons when it goes missing in the smuggling capital of the world?
ATF agent Sam Haine dives into Manila's cauldron of industrial espionage, sex-slavery, and CIA covert ops.
"A riveting tale as contemporary as tomorrow's breaking dawn. . .among the most auspicious debuts in recent years. " —Kent Braithwaite, The Wonderland Murders
"A wild, yet convincing ride of a crime novel set in the underbelly of modern day Manila, and peopled it with characters who stick long after the story ends."—Kirk Russell, Deadgame
"The clues started to roll in and the action heated up…I couldn't put it down…We eagerly look forward to more in this series." –Kim Reis, of Armchair Interviews.com
Lori Lacefield --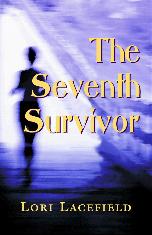 Is a charitable cause worth killing for? That's what victim's advocate and foundation director Palmer Reed must decide when she discovers the chairman's ultimate plan for vindication is murder.
"In her first novel, Lacefield delivers a taut, twisting tale of justice and revenge. The pace is quick, the dialogue crisp, and the villain unforgettable. This is a debut you don't want to miss."
-- Bob Mayer, NY Times bestselling
author of Don't Look Down
"Grabs you by the lapels and hurls you toward the ending. . ."
-- Shane Gericke,
Blown Away

"A thriller that cranks up the tension and leaves the reader clamoring for more."
-- Christine Goff, award-winning
author of Death Takes A Gander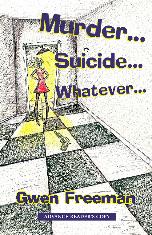 -- Gwen Freeman
When Bosco, my freeloading brother--make that half brother--showed up on my front porch, I should have followed my first instinct and slammed the door. But he said Uncle Ted had been murdered and there might be money in it for us. Truthfully? I didn't even know we had an Uncle Ted.
"A quirky fusion of genres, Murder, Suicide, Whatever is a classic locked door drama with a darkly funny new millennium edge."
DAVID G. SASHER AWARD Finalist

Sheila Lowe --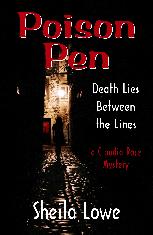 When powerful Hollywood publicist Lindsey Alexander is found dead in her hot tub, a suicide note at the scene, police assume the obvious. But Lindsey's business associate hires forensic handwriting expert CLAUDIA ROSE to expose the truth.
"A stellar debut novel. A fresh voice in a crowded genre. Highly recommended."
-- Sheldon Siegel, NY Times bestselling
author of The Confession
"Be careful! You'll start to be afraid of what your signature really says about you. Claudia Rose has a mind as sharp as a quill, and the guts of a burglar."
-- David Skibbins, award-winning author
of Eight of Swords